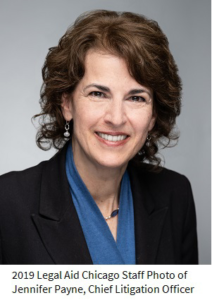 Jennifer Payne, Legal Aid Chicago's former Chief Litigation Officer, has worked at Legal Aid Chicago for 30 years, handling a wide variety of cases, including family law, housing, public benefits, employment, and special education. Her intelligence, tenacity, and dedication to justice are unparalleled. On Tuesday, January 6, 2019, Jennifer was sworn in as a Cook County Associate Judge. Larry Wood, Legal Aid Chicago's Supervisory Attorney, has worked alongside Ms. Payne throughout her career and shares a personal farewell on behalf of himself and the entire Legal Aid Chicago staff.
---
When Jennifer began her career here on September 4, 1990, this agency—then called the Legal Assistance Foundation of Chicago (LAF)—was a very different organization.
The directors and specialists worked downtown at what was called the General Office, and there were six neighborhood outposts. The neighborhood staff attorneys were generalists who handled cases in every practice area, and there were no case limits.
Nor was there an electronic case management system. We recorded each client's identifying information by hand on a legal-sized sheet of cardstock (pressing down hard to ensure this information made it through to the carbon paper below) and kept handwritten history notes on sheets of lined paper.
Only the office secretary had a computer, and we gave her our handwritten discovery requests and pleadings and motions and briefs so she could type them up. And there was no access to electronic legal research.
It was a challenging environment, especially for new lawyers. During orientation, a supervisory attorney explained that we would all suffer physical manifestations of our stress within the next year and that we shouldn't worry about it.
Jennifer and I were assigned to the West Side Office, a one-story, windowless bunker on a weed-strewn lot that didn't inspire much confidence. One of our clients, who was facing eviction from a poorly-maintained public housing unit, was asked to describe the problems of the condition in her apartment, and she looked around the office and said, "Well, it's not as bad as this."
Other buildings on the block were in similarly bad shape, and two of them got condemned and demolished. During the demolition, one of the bulldozers knocked down part of the intake specialist's wall. No one got hurt, so the incident became just one of the many inconveniences we endured, like the ceiling that leaked, the floor that collapsed, the blackouts that rendered our windowless office completely dark, the men's room with a single stall that had a shower curtain for a door, and the air conditioning that stopped working whenever some thief jumped on our roof to steal the system's copper wiring, which could sell for a few dollars.
It was at the West Side Office that Jennifer met Dee Dee, a subsidized housing resident who suffered from cerebral palsy and used an electric wheelchair she controlled with one hand. Her two young sons, Stephen and Henry, were in the care of a private guardian. After this guardian abandoned them, DCFS refused to return them to Dee Dee on the grounds that her condition rendered her presumptively unable to care for them. Jennifer challenged this decision and reunited the family (with social services in place), and then stayed in close contact with them. After Dee Dee died in 2006, Jennifer and her husband essentially took on the role of parents, providing Stephen and Henry (who by that time were 15 and 18) with essential guidance and support. Stephen now has an MSW from the University of Illinois, and Henry has a commercial driver's license and works for a registered motor carrier. They both think of Jennifer as their family.
Jennifer also represented Carolyn, a tenant whose landlord (an attorney) had locked her out of her garage, where she kept a motorcycle she had purchased sometime earlier with lottery winnings. Jennifer sued the landlord for conversion and obtained a $40,000 default judgment against him. He subsequently filed a petition to vacate this judgment, arguing that he had never been served with the summons. At the hearing on this petition, however, the sheriff's deputy testified that he clearly remembered serving the landlord, whose picture was everywhere at the time because he had been running for alderman. The trial court denied the landlord's petition, and he appealed.
Jennifer recruited me to help defend against this appeal, and the appellate court affirmed the trial court's order. The landlord then filed for bankruptcy and tried to discharge his debt to Jennifer's client, but Jennifer successfully argued that the debt could not be discharged because it was the result of an intentional tort. She also discovered that the landlord had lied on his bankruptcy petition about his assets—Jennifer learned about these assets while trying to collect on her client's judgment—so she notified the bankruptcy trustee, who brought the matter to the attention of the ARDC, which disbarred the attorney.
More than twenty years later, Jennifer ran into Carolyn in court. Carolyn reintroduced herself and said, "I was watching you talking to the judge, and just by the way you were flailing your arms around, I knew it was you. I said to my daughter, 'That's Jennifer Payne. That's the way she talks.'" Carolyn then told Jennifer that she used the $40,000 from the conversion lawsuit to buy a house in Tinley Park, where she still lives.
In 1997 Jennifer became a supervisory attorney at the West Side Office, where she remained until LAF moved its entire staff to our current central location. The attorneys she supervised—first on the west side and later at the Children and Family Practice Group—will confirm that she is one of the most supportive, knowledgeable, and gifted supervisors this agency has ever employed.
She is also one of its most accomplished advocates. Her work resulted in several published decisions, including these precedent-setting victories:
Ralda v. Sanden, 2013 IL App (1st) 121117 (trial court erred in granting father's motion to dismiss; statute of limitations should have been equitably tolled because daughter had been told throughout her childhood that her father had died in car accident, and mother told daughter her father was dead because mother was afraid of him and didn't want daughter to know she [daughter] was the result of a rape).
Sanchez v. Torres, 2016 IL App (1st) 151189 (after petitioner established that respondent abused her, the trial court erred by denying the request for an order of protection and issuing a civil restraining order, which provides for less effective remedies).
Of course, the majority of Jennifer's accomplishments—including impact work, non-litigation initiatives, and hundreds of victories at administrative hearings and in court—are not memorialized in an official reporter. For example, she coordinated the team that successfully challenged, on the grounds that it violated a civil rights law, CPS's decision to close NTA Elementary School. She also helped create and then managed the OP Appeals Project in collaboration with Dentons, LLC, managed the OP Litigation project in collaboration with the Pro Bono Network, and trained volunteer attorneys for the OP Help Desk in Rolling Meadows (a collaborative endeavor with DLA Piper).
Jennifer has been honored for her exceptional work several times. In 1995 she became one of the youngest attorneys to receive LAF's Equal Justice Award, and twelve years later, she received the much more important (because it comes with money) Jerold Solovoy Award for her outstanding representation of clients and supervision of attorneys. John Gallo recognized Jennifer's abilities and achievements by making her Director of the Children and Family Practice Group in 2018, and one year later promoting her to Chief Litigation Officer. To show her gratitude, Jennifer resigned.
Jennifer does, however, have a good excuse for leaving. On Monday, she joined the bench of the Circuit Court of Cook County—a position that plays to all her strengths, including her propensity to judge.
This tribute to Jennifer is long, but far from complete because it is impossible to summarize such a long and impressive legal career in an email. On behalf of the entire Legal Aid Chicago Staff, farewell Jennifer. Cook County could not have asked for a better judge.