Legal Aid Chicago's 2019 Annual Luncheon honored Sidley Austin LLP partner and Legal Services Corporation Board Chair, John G. Levi as our Champion of Justice. With over 700 seated guests in attendance, Governor J.B. Pritzker presented the award to John who accepted, while stressing the crucial need for legal aid support in Chicago and throughout the United States.
"Folks, this crisis in access to justice for low-income Americans is happening on our watch. Leaving this many people out to fend for themselves seriously erodes confidence in the fairness of our justice system and ultimately, in my view, jeopardizes the rule of law. Equal justice is not charity. We have to do better and soon!"

— John G. Levi
---
Legal Aid Chicago's Supervisory Attorney, Ashley Fretthold was honored with the Jerold S. Solovy Equal Justice Award. As a bold and fearless advocate working within the Children and Families Practice Group, Ashley handles special education, school expulsion proceedings on behalf of foster children, and works on behalf of student victims of sexual assault. Most recently, Ashley led a team to successfully stop the closure of National Teacher's Academy Elementary School (NTA), a top-rated elementary school with wrap-around programs that serve a student population that is 75% low-income and 75% African American. The parents of NTA were in attendance to share their thoughts and feelings regarding Ashley's team, Legal Aid Chicago, and NTA's victory.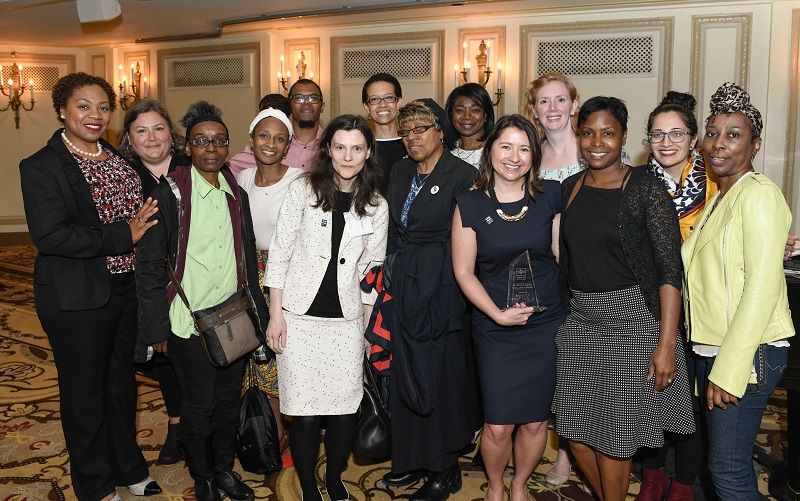 "NTA is more than a school—it is a community, a second home, and a family. To know that it has been saved frequently brings me to the brink of tears, and although the words are inadequate, on behalf of the over 700 families, teachers, and staff of NTA—Thank you."
–Elisabeth Greer (NTA Parent)
"Having [Legal Aid Chicago] take our case along with Chicago Lawyer's Committee for Civil Rights allowed the NTA family to have hope. The filing of our lawsuit gave new energy to our community at a time when it was most needed. Winning gave our students their educational home. Although thank you does not begin to express what our win means to me and our school community, thank you [Legal Aid Chicago] for taking up our fight."
— Anika Feldman Matthews (NTA Parent)
"My family stands in awe and thanks to the team from [Legal Aid Chicago] for their work in helping to ensure that our school home will remain the place that my children learn, grow and thrive. The [Legal Aid Chicago] team succeeded in not just a legal victory, but a victory for affirming school choice for families like mine. Thank you for standing with us."
— Courtney Everette (NTA Parent)
---
Thanks to our sponsors and individual supporters commitment to justice, Legal Aid Chicago raised over $1,000,000 for our 2019 Luncheon!
Click here to see more images from our 2019 Annual Luncheon.